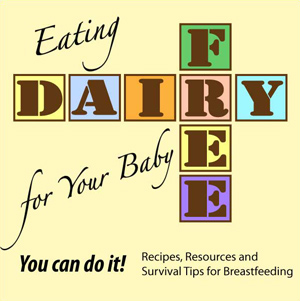 Are you a nursing mother who needs to stop eating dairy for your nursling's health?
Are you wondering how you will ever survive without milk, cheese, ice cream, yogurt?
Never fear! You can do it!

If you're still not sure you need to go dairy-free, these articles from La Leche League may be helpful:
La Leche League also publishes a pamphlet on allergies as they relate to breastfeeding, with information on how to detect and reduce baby's exposure to allergens, how allergies occur, and how to help prevent allergies in subsequent children. It is entitled simply "Allergies" and is available both in English and Spanish through their online catalogue (currently unavailable -- visit La Leche League's Breastfeeding and Allergies resource page or contact a local LLL Leader for more information).
Dr. Jay Gordon's site includes a really thorough article which also discusses how to diagnose a dairy reaction in your nursling, with links to several other very informative pages.
If you're unsure that dairy is the problem, Dr. and Martha Sears outline an elimination diet at their site.
It is extremely important to know that, in breastfeeding mothers, an oversupply or foremilk-hindmilk imbalance can mimic, or worsen, allergic reactions in the baby. Oversupply can sometimes be misdiagnosed as not having enough milk, when in reality, the opposite is true. This FAQ on oversupply, and the FAQ on "Foremilk, Hindmilk and Lactose" which is linked about halfway through, can give you a lot more information on how to figure out if you have an oversupply, and what to do if you do.
Finally, Kelly's AP has a nice, concise guide on the hows and whys of going off dairy, and when and how to start re-introducing dairy foods later.
It is very important to remember why you are going to the trouble of removing dairy from your diet. Sure, you're looking forward to the immediate benefit of a happier, less gassy, less itchy, less fussy baby. But you are also doing this because, as referenced in the articles above, you are greatly reducing your baby's risk of a lifelong allergy by minimizing his or her exposure to this allergen now. This is a general rule of parenting: every effort you make for your baby will be returned a thousandfold as he or she grows up!
---
---
Once you've committed to living dairy-free (for now), what's on the menu?
First, there are still plenty of things you can eat, like:
Any plain fruit or vegetable
Any plain (non-breaded, non-coldcut) meat (Note: Check the label for casein on cans of tuna!) (Also note: Babies who are severely allergic to dairy may actually react to beef in your diet as well, although this is rare.)
Eggs
Pasta with garlic & oil or red sauce (Note: If you don't make your own sauce, read labels carefully -- many jarred sauces contain cheese)
Just about any product marked with the word "Parve" or "Pareve" as its Kosher certification (Note: I get a lot of emails with a lot of different advice and opinions about the various Kosher certifications and which mean a food is dairy-free. I'm currently unable to find one good, up-to-date, concise webpage that explains all of the different designations as they relate to a dairy-free diet. More on Kosher: ok.org and oukosher.org)
Most spreads and dips like mayonnaise, hummous, salsa, apple butter (and most other fruit "butters"), jams and jellies
Most bagels, tortillas, pitas and soft pretzels, and some breads (see below for more on bread)
Luna Bars (Note: All Luna bar flavors are marked "MC" for "May Contain Trace of" in the dairy column of their Allergen Reference Table. For more info, see their FAQ.)
Hershey's chocolate syrup (but not Hershey's chocolate, not even the dark chocolate) and many of the Nesquik syrups and powders
Many canned soups (except cream soups, of course)
Subs (aka Hoagies, Po'Boys, Grinders, etc.) without cheese
Hot cereal made with water or a milk substitute (Note: check the label on cereals like granola!!)
Milk substitutes (soy (See note on soy below), rice, oat, almond, coconut milk) -- great as ingredients, not so wonderful in a glass, if you're expecting "milk," although Silk and 8th Continent are probably the richest and most dairy-like. An excellent comparison of the nutritional content of milk substitutes may be found at http://www.ourgaggleofgirls.com/milk_subs.htm, and a good review of the choices is in this LA Times article. You can make your own rice milk-like drink by blending infant rice cereal and water in a blender until smooth. Experiment with added sweetener and vanilla extract to your taste.
Goat's milk and goat's milk products (sometimes – about 60% of babies who react to cow's milk will also react to goat's milk)
Some store-bought cookies (Note: Read labels carefully!)
Some store-bought cake mixes (Note: Duncan Hines, which added dairy to their mixes in 2005, announced in late 2006 that they were reverting most of their most popular mixes back to Pareve. Check the label to make sure your box is dairy-free. Another dairy-free line of cake mixes is available online from Cherrybrook Kitchen)
Most fruit-flavored popsicles
Rice, couscous, bulgur wheat, etc.
Just about all authentic Chinese, Thai, Vietnamese, Japanese, and other Asian food (although be careful with battered dishes like sweet-and-sour chicken)
All foods from these companies: Eden Foods, Glen Foods, San-J, Nasoya Foods, Lightlife Foods, Road's End Organics, and Vitasoy
A lot of snack foods (potato chips, pretzels, nuts, corn chips) but not nachos or buttered popcorn
Areas where you must tread more carefully:
Breakfast -- This can be the hardest meal of the day when you're adjusting to a dairy-free diet. No milk on your cereal, no cream in your coffee, no butter on your toast, etc. etc. etc. Add in the fact that you're bleary-eyed and hungry, and you can end up feeling deprived and frustrated. Here are a few breakfast-specific suggestions:

Smoothies can be delicious, nutritious, and easy -- blend things like frozen fruits, granola, nuts, and milk substitutes. Use an immersion (stick) blender for easier cleanup.
Granola or muesli mixed with applesauce can be quite tasty
Plain oatmeal, whether instant or the hearty kind that takes a bit longer to cook, can be dressed up with fruit, nuts, maple syrup, etc.
How do last night's leftovers look to you? Cold (dairy-free) pizza for breakfast: it's not just for college students any more!
Grab a Luna bar and a piece of fresh fruit and you're good to go
Flour tortillas filled with something yummy can hit the spot. Try spreading half of a tortilla with PB&J. Fold the unspread half over, and grill very briefly for a gooey treat!

Bread -- Often the best bets are "ethnic" breads like Italian or French. Thomas' English Muffins have dairy in them, but some store brand English muffins are "clean." Natural Ovens breads are Kosher Parve, as are some from Cobblestone Mill, and the bagels from Enjoy Life. Tortillas, pitas and bagels are almost always dairy-free, but do check labels before buying. Remember to check the label on your breadcrumbs, too!!
Ice cream -- Ice cream itself, of course, is right out, as is sherbet (which is milk-based), but many sorbets are "clean" (including Haagen-Dazs sorbets, even the fantastic chocolate flavor, although the label cautions that there may be trace amounts of milk protein present), and there is a bounty of delicious ice cream substitutes out there like Tofutti, Rice Dream, Soy Delicious (See note on soy below), etc. You'll find the best selection at a health food store, but even my local grocery has started to stock a few of them. My absolute favorite non-dairy treats, so good that I even eat them when I'm not dairy-free, are the Rice Dream Pies -- chocolate, vanilla, mint or mocha Rice Dream sandwiched between two oatmeal cookies, all covered in chocolate. Utterly delicious! You can also make your own sorbet sort of thing by freezing fruit, then putting it through a juicer or food processor. Peaches, plums and nectarines work really well, and bananas give an almost ice cream-like result.
Cheese -- To be honest, I have not personally found many supposedly "dairy-free" cheeses out there that don't contain casein, and the ones that are completely clean are usually pretty depressing. Nothing melts or gives a creamy mouth-feel like actual cheese. Some people swear by Chreese (from Road's End Organics) or Tofutti's casein-free cheese substitutes (Tofutti's cream cheese and sour cream substitutes are also supposed to be quite passable), and some people have good luck with cheese made from sheep's milk, but I personally found it easiest to just give up cheese or cheese pretenders for the duration. A nice parmesan substitute for the top of your spaghetti is toasted seasoned fine dry breadcrumbs, but remember to check the label for dairy ingredients if you buy pre-made breadcrumbs. (If you are desperate for something like cheese, you should check out The Uncheese Cookbook.) Non-cow-based cheeses like chèvre or pecorino (or some kinds of feta) may or may not bother your nursling -- if you like them, you may want to try eating a bit and seeing if your baby reacts.
Cheese sauce -- Bob's Red Mill features three recipes for a cheesy sauce based on nutritional yeast on their site -- here, here, & here.
Pizza -- You can find dairy-free frozen pizza at a good health food store. Alternately, you may find that you can continue to eat your regular pizza (either homemade or ordered in), if you just leave off the cheese. Most pizza crust is dairy-free (although you should probably double-check with the guy at your local pizza shop), and if you put on enough sauce and toppings (and maybe a nice generous drizzling of garlicky or herb-flavored olive oil), it's delicious and dairy-free. By the way, the little tubs of Papa John's garlic sauce that come with the pizza are dairy-free!
Cream of... Soups -- If your favorite casserole recipe just won't be the same without that red and white can of cream of something, don't give up hope! These soups are basically very thick and highly seasoned white sauces. To make a 1-cup "condensed" serving, melt 3 T margarine (or oil) in a saucepan. Whisk in 3 T flour, 1/4 tsp salt and a dash of pepper. Cook over medium heat until bubbly, stirring frequently. Slowly add 1 ¼ C hot milk substitute (or half-and-half milk sub & chicken stock for cream of chicken), stirring with a whisk to prevent lumps. Cook until thick, stirring constantly. You can add sautéed vegetables (i.e., sauté ¼ C chopped mushrooms and 1 T minced onion in the margarine before adding the flour for cream of mushroom; sub celery for the mushrooms for cream of celery), vary the liquid used (i.e. tomato juice for tomato soup), add herbs and spices, etc. Alternately, any soup can be made creamy by blending in a package of soft tofu. Another option is to blend 1/4 cup almonds in a blender, add one cup water, 2 T corn starch, blend, pour into sauce pan, heat until thick, stirring frequently. Even easier: blend plain soy yogurt (See note on soy below) with canned (non-cream) soup. If all this sounds too much like work to you, Imagine sells a line of "creamy" soups that are dairy-free. My local grocery store stocks these, and they're not bad! (Note: all of Imagine's soups are dairy-free except for their lobster bisque and crab bisque.)
Milk in recipes -- Non-dairy "milks" (soy milk (See note on soy below), rice milk, oat milk, coconut milk, etc.) can usually be easily substituted for milk in recipes, but some dishes (especially certain baked goods) are finicky and will only work with, say, oat milk but not rice milk. Sometimes a little experimentation is called for! You can make your own rice milk-like drink by blending infant rice cereal and water in a blender until smooth. Experiment with added sweetener and vanilla extract to your taste. Rich Foods makes a frozen coffee creamer called Coffee Rich that is free of lactose and sodium caseinate, and I am told that it can be used as a substitute for milk in recipes, and as a base in soups.
Evaporated milk and sweetened condensed milk -- Make your own by buying powdered soy milk (See note on soy below) and mixing it at double or triple strength for evaporated milk. Add sugar for sweetened condensed milk. More detailed instructions may be found at the vegsource.com boards. You can also make a sweetened condensed milk substitute by blending 14 oz of soft tofu with 5 1/2 tsp of sugar. Cream of coconut (not coconut cream or coconut milk) can be substituted 1:1 for sweetened condensed milk in recipes, if you like the flavor. The godairyfree website has a few other recipes for sweetened condensed milk.
Yogurt -- There are several soy yogurts out there (See note on soy below). I hear Silk's soy yogurt is decent, and that Trader Joe's, Wildwood, and WholeSoy also make good yogurts, but I haven't tried them. I'm just not that much of a yogurt fan, really. You can also blend up silken tofu with fruit and sweetener for a yogurt substitute. Of course, this kind of substitute doesn't provide the health benefits of "active yogurt cultures," but you can buy lactobacillus supplements at your local health food store (they should be in the refrigerated section).
Butter -- There are very few margarines that are totally dairy-free. I personally use Fleishmann's unsalted sticks (the salted stuff is NOT dairy-free -- go figure!) for baking and Benecol tub spread for spreading on things like toast. You'll find many more dairy-free choices at a health food store, but those are the ones I can get at my regular grocery. Some grocery stores carry Nucoa margarine, which is certified free of lactose and milk solids. Earth Balance Buttery Spread has been recommended in the most enthusiastic way by several readers. Smart Balance Light and Spectrum Spread are also dairy-free. It can be tricky to substitute for butter when you're baking. Applesauce, nut butters, and oils like olive oil sometimes work when margarine doesn't. Crisco is dairy-free, and I'm told the Butter-flavored Crisco is also clean. Note: 100% butter is, by definition, 100% fat, and actually contains very little milk protein (in reality, though, no butter is truly dairy-free unless it has been completely clarified). Therefore, some nursing mothers can continue to consume small amounts of real butter (i.e. in baked goods or on popcorn) without noticeable effect on their nursling. Similarly, when you're ready to start slowly adding dairy back into your diet, butter may be one of the first things you can add. As with everything, your mileage (and your baby) may vary.
Chocolate chips -- Nestlé Toll-house Morsels are not dairy-free, but Ghirardelli's incredibly delicious semi-sweet chips are "clean", as are Sunspire's Chocolate Dream, Enjoy Life, and many store brands.
Coffee creamer -- Most "non-dairy creamers" contain dairy. So what do you put in your coffee? Well, Silk makes a "Soymilk Creamer" (See note on soy below) -- it's sold in little refrigerated pint cartons. Westsoy makes "Crème de la Soy," a shelf-stable creamer that comes in original, amaretto and french vanilla. Rich Foods makes a frozen coffee creamer called Coffee Rich that is free of lactose and sodium caseinate. Some people like to use goat's milk, or coconut milk. You can just stir straight soy milk into your coffee, but sometimes the heat makes it curdle (which doesn't affect the taste but does look rather unappealing). Some have found that the curdling can be prevented (and creaminess added) by stirring in a spoonful of dairy-free frozen whipped topping (see below) along with the soy milk. Another method is to heat a mug of milk substitute (soy milk or whatever you prefer), then stir in some instant coffee. If this all sounds too complicated, you can always whip up some hot chocolate instead -- In the bottom of a microwaveable mug, stir together 1 T unsweetened cocoa powder, about 2 T sugar, pinch of salt and enough soy milk (or other milk sub) to make a smooth paste. Heat this in the microwave for 20 seconds or so, and stir again. Then fill the mug with soy milk, add a dash of vanilla, stir well, and heat again until hot. Amounts of cocoa, sugar, salt, and vanilla can be adjusted to taste.
Pudding -- Unfortunately, you can't always just substitute soy milk or rice milk for cow's milk in your regular pudding recipe (even if your recipe involves a box of instant pudding and a whisk) because it might not set up. Some homemade recipes do adapt well to non-dairy ingredients, so you might be able to experiment. There are some good pre-made soy puddings (See note on soy below) available at health food stores (my favorite is made by ZenSoy), and Mori-Nu makes a pudding mix intended to be blended with silken tofu. I also have a fabulous chocolate pudding (or pie filling) recipe that I use a lot: in a blender, combine 1 carton silken tofu (drained), ½ c melted chocolate chips, and ½ c nut butter (peanut, soynut, almond, etc). Blend, chill and serve. You can tweak this by using different flavored chocolate and different nut butters, and you can also add a little rum or some vanilla or almond extract. If it turns out too thick, you can thin it with a little soy milk. Alton Brown has a similar recipe on the Good Eats site. You can also Google up some very intriguing recipes for "Chocomole", which is an avocado-based chocolate pudding. Many boxed pudding mixes (especially the non-instant ones) are dairy-free, but again, you may have to experiment to find a milk substitute that will yield the right consistency; I hear that almond milk works well. Slightly decreasing the amount of milk sub you use may also help the pudding to set up more firmly.
Whipped cream -- Cool Whip contains dairy ingredients, but Equality brand and No Name brand whipped topping are "clean," as is NutriWhip. These brands do not seem to be widely available. (Note: in some cases, only the low-fat versions are confirmed to be dairy-free. In others' experience, the converse is true. As always, check the labels!) Soyatoo makes a whipped soy topping (See note on soy below) that sounds good -- it's apparently available at Whole Foods markets, and online. Here is a review, with links to buy it. Rich Foods makes a frozen whipped topping called Rich Whip which is 100% milk free. There are a lot of recipes online for dairy-free whipped toppings, using things like marshmallow creme, blended nuts, or tofu as their bases. A Google search for "vegan whipped cream" will find these for you.
Cream cheese -- Tofutti has a pretty decent line of fake cream cheese spreads which are nice on bagels and such. If you want to make cheesecake, there are a great many recipes on the web for vegan cheesecake using tofu; Vegweb alone has about a dozen "cheese"cake recipes.
Sour cream -- There are several dairy-free brands of sour cream substitute "out there". By far the best, from what I've heard (I don't like sour cream myself), is Tofutti brand. Silk brand plain soy yogurt (See note on soy below) can be used as a sour cream substitute in things like dips. Alternately, you can make your own. For baking, you can usually substitute soured soy milk (1 T vinegar or lemon juice added to 1 C soy milk and left to stand for 5 minutes = 1 C soured soy milk).
Buttermilk -- In recipes, soured soy milk (above) can be substituted for buttermilk (See note on soy below).
Convenience foods -- A good health food store will offer many kinds of frozen dinners and other convenience foods that are dairy-free (and labeled as such). Amy's Kitchen, for example, makes some yummy frozen entrees with no dairy. (Note that not every Amy's Kitchen is dairy-free, but those that are will be clearly marked.)
Cold cuts and hot dogs -- Many of these contain casein or whey ingredients. Read labels carefully!
Chocolate bars -- There are some really fantastic dairy-free chocolate bars and candies out there, from places like Amanda's Own, Chocolate Emporium, Enjoy Life, and Sunspire!
There are some other useful substitution ideas at the GoDairyFree site.
How does one live dairy-free?
To start off, I would suggest planning a special trip to the grocery store. Expect to spend an hour or more in the aisles, just this once. Read labels on everything you might want to eat, looking for milk, butter, dried milk, yogurt, cheese, casein, whey, sodium caseinate, lactose (and other things that start with "lact", although sodium lactylate is non-dairy)... Read all labels -- check the bread, check the hot dogs and bologna, check things that say "non-dairy" like non-dairy creamer and Cool Whip (as mentioned above, these both contain dairy). Fill your cart with things that are "clean". Bring it all home and stuff your shelves with "yes" foods, and focus on everything you can eat instead of the things you can't.
Once you've got your house stocked, make some food and put it in the fridge for later. As soon as you start getting hungry, eat a little something. Don't let yourself get to the point where you're ravenously hungry and craving some forbidden (dairy-filled) treat, because once you're there, none of your new "yes" foods will look even remotely appetizing to you. In the first week or two of your new dairy-free diet, you may even find it helpful to set a timer to remind yourself to eat a bit every few hours.
As hinted at above, often if a major label product contains small amounts of dairy ingredients, the store-brand or other cheaper knock-off versions might not. For example, Oreos may contain dairy*, but my local grocery store sells a store brand knock-off called "Tuxedos" -- they come in regular, double stuff, chocolate creme or mint creme and they are delicious and dairy-free. Similarly, I can eat my grocery store's version of English muffins, even though Thomas's contains dairy.
[*Oreos update: as of May, 2005, many packages of Oreos no longer list whey as an ingredient. I have been unable to find a definitive answer as to whether the recipe has changed and Oreos are now reliably dairy-free worldwide. Repeated contacts with Nabisco have produced a variety of answers It may be a regional variation (some places have whey in their Oreos and some don't). If your package of Oreos mentions dairy on the nutrition panel, I hear Newman-O's are dairy-free and delicious, as are Kinnikinnick Foods' KinniToos, and all of the Famous Amos sandwich cookies!]
As also hinted at above, you can't assume that, just because one version of a product is safe, all other versions will be safe too. If you want to keep buying a particular brand but you want to change from salted to unsalted, or from low-fat to no fat (or to "full" fat), make sure you read the label!
Look at the Kosher designations on many packaged foods -- anything marked "Parve" or "Pareve" is dairy-free and safe to eat. Anything marked "Kosher Dairy" may or may not be safe to eat; Kosher laws require that foods that are processed in facilities where dairy foods are also processed be marked "Kosher Dairy," but if you read the ingredients, you may see no dairy ingredients actually in the food. If you were dealing with true anaphylactic dairy allergy, you'd have to avoid these foods due to risk of cross-contamination, but I personally don't observe that level of care in this situation. Similarly, anything marked with a circled U with the letters "DE" next to it contains no dairy ingredients, but was produced on machinery that is also used for production of dairy foods -- again, only a problem for a severe dairy allergy. Any meat product that has a kosher symbol is totally non-dairy.
Similarly, some of the natural flavorings that are added to products contain trace amounts of butter or other dairy ingredients. Not all manufacturers reflect this on their labels. Generally, this small an amount of dairy is not enough to cause a problem for a nursling, but it is something to be aware of. (And please do remember, this webpage is intended solely for breastfeeding mothers whose babies are reacting to dairy in the maternal diet; people with galactosemia or true milk allergies may find that the recommendations contained herein are not sufficiently stringent!)
As I noted above, pretty much all authentic Asian food is dairy-free, but any other restaurant can be suspect. Even innocent-seeming steaks and chicken cutlets are often buttered after they come off the grill, and toasted or grilled buns are usually buttered as well. Unless you are willing to make a real pain of yourself with the waiter, eating out may be more trouble than it's worth. (You can spend all the money you save on Tofutti Cuties) As far as fast food goes, I know that Wendy's, Subway, Burger King, and McDonald's have dairy-free menu items (those links go to the ingredient information sections of their respective websites). I'm told that each Panera Bread location has a binder you can ask to see that lists the ingredients for each of their products, so you can look for something "clean". Note that Chick-Fil-A dips all of their breaded chicken products in a milk-and-egg wash before breading and cooking, and they buy their buns from local bakeries (which means that the recipe and ingredients may vary slightly from one restaurant to another). Also note that McDonald's shows dairy in their fries (as a component of the "natural beef flavor" that they add) on the ingredients page.
When you go to the health-food store, anything marked Vegan is by definition dairy (and egg) free. If you go to a large chain health food store like Trader Joe's or Whole Foods, check at the customer service desk before you start shopping; my local branches of these stores offer free pamphlets listing every dairy-free item they stock -- very handy!
There are a few over-the-counter medications that contain whey or lactose, or other dairy ingredients, so check your vitamins, etc.
Speaking of vitamins, you might want to take a calcium supplement (calcium and magnesium combined together in a 2:1 ratio are easiest for your body to use), at least until you get used to your new diet. Cow's milk is actually not the greatest source of calcium, but it's still the main source for most Americans at least. Better sources of calcium include broccoli, tofu, almonds and seeds (like sesame and sunflower), fish with edible bones (like sardines), and lots more. If you do decide to take a supplement, you should split the dose so that you're taking half the total RDA in the morning and half at bedtime. Your body can't assimilate a full day's RDA at one time, so splitting the dose is the best way to utilize the supplement, plus taking some cal/mag at bedtime can give you better quality sleep. (More on milk and osteoporosis here.) Note that, if you are taking an iron supplement for any reason, you should make sure to take your iron supplement at a different time of day from the calcium and magnesium. Both of these minerals compete with iron for absorption and will significantly decrease the amount of iron available for your body to use.
Here are some useful web pages:
Also, if you have access to vegan recipes and foods, that's another great source...
Finally, try to find some support. Eating a restricted diet is work and it can be a real pain in the neck, especially when you're first getting the hang of it, to constantly have to think about your food and whether every little morsel is okay to eat. You're going to need a place or a person that you can go to and feel safe to whine and complain and vent about how much you miss [insert your favorite forbidden food here]. La Leche League meetings are often a supportive place to talk to other nursing moms who are in this situation, and you can feel confident that no one is going to tell you, "just go ahead and wean the kid to soy formula and then you can eat whatever you want." *grin* Similarly, there are several good mailing lists and web forums for parents of allergic kids (many linked above) where you can find a listening ear and a supportive shoulder.
Good luck -- it can be done!
Help me make this page better! Email me your tips and suggestions!
---
Notes
- A significant percentage of infants with an allergy to dairy will also react to soy, so you may not want to rely on soy-based products to make up a large part of your dairy-free diet.
---
Disclaimer: Please note, this page is intended for nursing moms who need to remove dairy from their diet for the health and well-being of their nurslings. Although I link to online sources intended for those with true dairy allergies or galactosemia, the information discussed on this page is not intended for use by individuals with those conditions. This page is not to be construed as medical advice, but is only the representation of many many months' personal experience eating a dairy-free diet.
---
This page is also available as a PDF file for download. Please do not edit or alter this document in any way before distributing it. Also, to make sure that the PDF version is up-to-date with the web version, check the "Last edited" date at the bottom of both -- if they don't match, email me and ask me to update the PDF doc for you.

© 2003-17 J.L. Moquin
Last edited 9/17/17