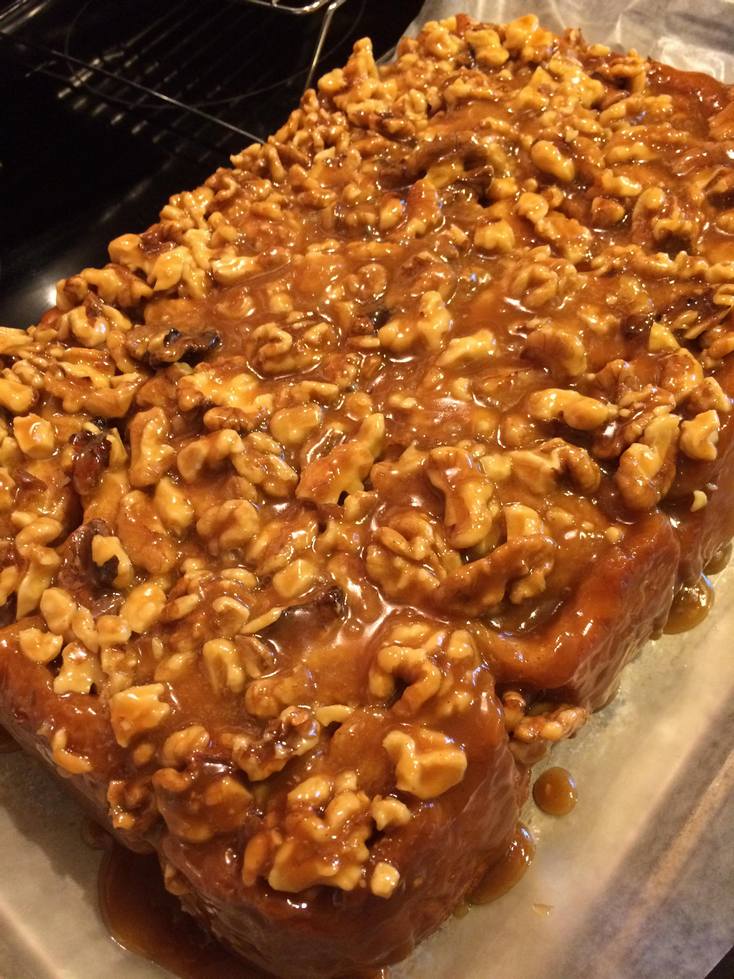 I adapted these slightly from this recipe, basically just changing the pecans to walnuts and adding more walnuts because I like walnuts, ok? The first time I made these, I was still pretty new at working with yeast dough, but these are so easy and they turn out perfect!!
Caramel Walnut Cinnamon Rolls
2 packages (¼ ounce each) active dry yeast (1½ T from a jar)
1 C warm 2% milk (110° to 115°F)
2 large eggs, room temperature
5 T butter, melted
½ C sugar
1 tsp salt
5 C all-purpose flour
CARAMEL SAUCE:
1 C butter, cubed
2 C packed brown sugar
¼ C corn syrup
1 C chopped walnuts, plus a big fistful of halved walnuts for more crunch
FILLING:
2 T butter, melted
½ C sugar
1 tsp ground cinnamon
In a large bowl, dissolve yeast in warm milk. Add the eggs, butter, sugar, salt, and 3 cups flour. Beat until smooth. Stir in enough remaining flour to form a soft dough.
Turn onto a lightly floured surface; knead until smooth and elastic, about 6-8 minutes. Place in a greased bowl, turning once to grease top. Cover and let rise in a warm place until doubled, about 1 hour.
Meanwhile, for sauce, melt butter in a large saucepan. Stir in brown sugar and corn syrup. Boil over medium heat for 2 minutes, stirring constantly. Pour into a greased 13"x9" baking dish. Sprinkle with walnuts; set aside.
Punch the dough down. Turn onto a floured surface. Roll into a 17"x15" rectangle. Spread butter to within ½" of edges. Combine sugar and cinnamon; sprinkle over dough. Roll up jelly-roll style, starting with a long side; pinch seam to seal.
Cut into 15 slices. Place cut side down over caramel sauce. Cover; let rise until doubled, about 30 minutes. Preheat oven to 350°F
Bake at 350°F until golden brown, 30-35 minutes. Let stand 5 minutes; invert onto a serving platter.