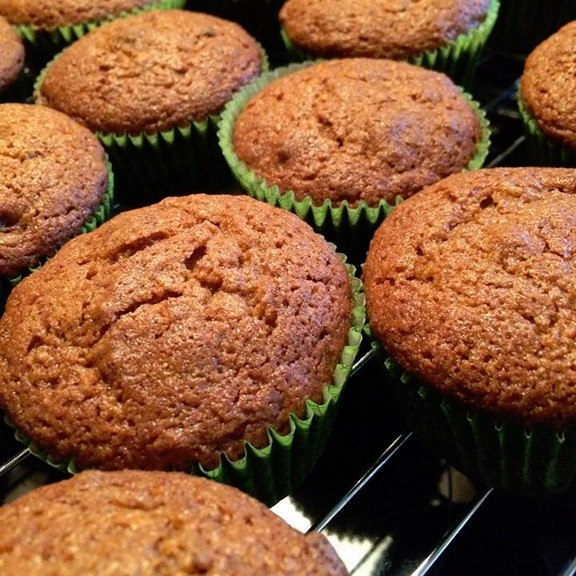 These are the Libby's recipe, pretty much. Just your basic pumpkin muffin. They're good with nuts added, or you could sprinkle on some sort of streusel topping before baking if you wanted them fancier.
Pumpkin Muffins
3 C all-purpose or whole wheat flour
1 T plus 2 tsp pumpkin pie spice*
2 tsp baking soda
1½ tsp salt
2¾ C sugar
1 15-ounce can pumpkin puree (not "pumpkin pie filling")
4 eggs
½ C vegetable oil
½ C water or orange juice
1 C chopped pecans or walnuts (optional)
Preheat oven to 350°F. Grease or line 30 muffin cups.
Combine flour, spices, baking soda and salt. Set aside. Combine remaining ingredients. Stir in flour mixture just until moistened. Spoon batter into prepared muffin cups, filling ¾ full.
Bake 25 to 30 minutes or until toothpick inserted in center of a muffin comes out clean. Cool in pans on rack for 10 minutes, then remove to racks to cool completely. Store in covered container or resealable plastic bags. These muffins freeze very nicely.
* This is a spice blend that you can purchase ready-made. I prefer to mix my own on the fly, so for this recipe I add 2 tsp cinnamon, 1 tsp each ginger and nutmeg, and ½ tsp each cloves and allspice or mace.