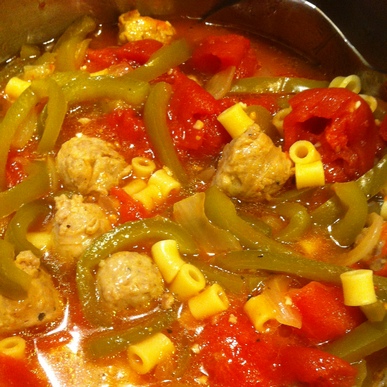 I got this from Everything And/But Nothing and I was extremely fatalistic while I was making it because I was sure I would never be making it again. I figured that either the kids would flat-out refuse to even try it, or it would end up tasting lousy to me (my relationship with green peppers is touchy at best). But dang, we've all agreed that this stuff is GOOD, especially with a little Parmesan grated on top.
Sausage and Pepper Stew
About 1 lb Italian sausages (hot or mild, your choice), sliced
1 medium onion, thinly sliced
4 large garlic cloves, finely chopped
3 green bell peppers, cored, seeded and cut into thin strips
28-oz can tomatoes, drained and chopped
2 C water
3/4 C uncooked small pasta (like tubetti, ditali, fiori or shells)
Basil, salt and freshly ground black pepper to taste
In a large skillet with a lid, heat the sausages and onion in a little bit of oil over medium-high heat. Cook, stirring frequently, until the onions are just tender, about 8 minutes. Add the garlic and peppers and cook another couple of minutes. Add the remaining ingredients. Rearrange things in the pot as necessary to make sure the pasta is submerged. Raise the heat to high and bring to boil, then reduce heat to medium-low, cover, and simmer until the pasta is tender, about 25 min.