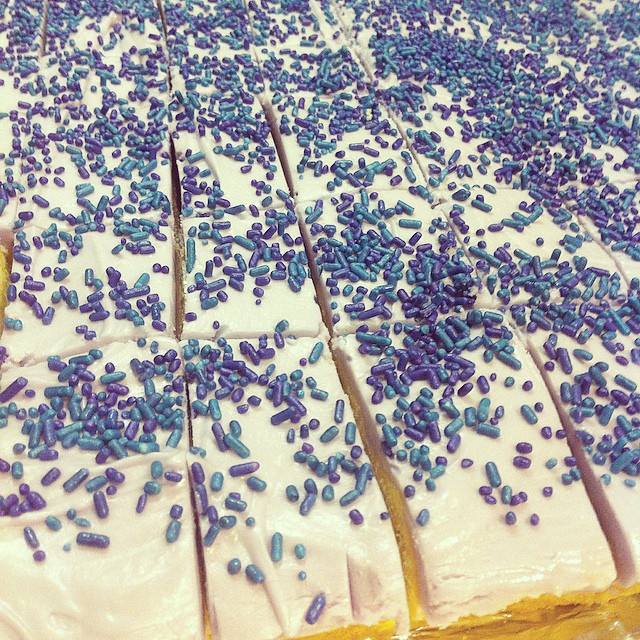 These cookies made the rounds of the food blogs at one point, but it took me many months afterward to find an excuse to make them. The cookies themselves are not too sweet, and can be bland if you don't punch them up a bit with an extra touch of extract. The sweetness of the icing is a perfect counterpoint. These have only two drawbacks: (1) This recipe makes A LOT of cookies -- a whole jelly roll pan's worth, and (2) It will be difficult, if you're like me, to convince yourself not to eat these for breakfast.
Sugar Cookie Bars
Cookies:
1 C butter, room temperature
2 C sugar
4 eggs
2 tsp vanilla + at least 1 tsp almond (or your favorite) extract
5 C flour
1 tsp salt
½ tsp baking soda
Cream butter and sugar until fluffy. Add eggs, one at a time, mixing after each addition. Add extracts and mix well. In a separate bowl, combine flour, salt, and baking soda; stir with a whisk to combine. Add dry ingredients to wet ingredients and mix until just combined. Spread into a greased 13" X 18" jelly roll pan. Bake at 375° for 10-15 minutes, or until golden and a toothpick inserted in the center comes out mostly clean. Cool completely and frost with buttercream icing. Colored sprinkles are an option at this point.
Icing:
1 C butter, softened
6 - 8 C confectioners' sugar
½ C milk
2 tsp vanilla extract (you can add more of your favorite here, as well)
Food coloring (optional)
Place the butter in a large mixing bowl. Add 4 C of the sugar and then the milk and vanilla. Beat until smooth and creamy. Gradually add the remaining sugar, 1 C at a time, beating well after each addition, until the icing is thick enough to be of good spreading consistency. You may not need to add all of the sugar. If desired, add a few drops of food coloring and mix thoroughly. (Use and store the icing at room temperature because icing will set if chilled.) Icing can be stored in an airtight container for up to 3 days.
Yield: about 54 bars (2" X 2")