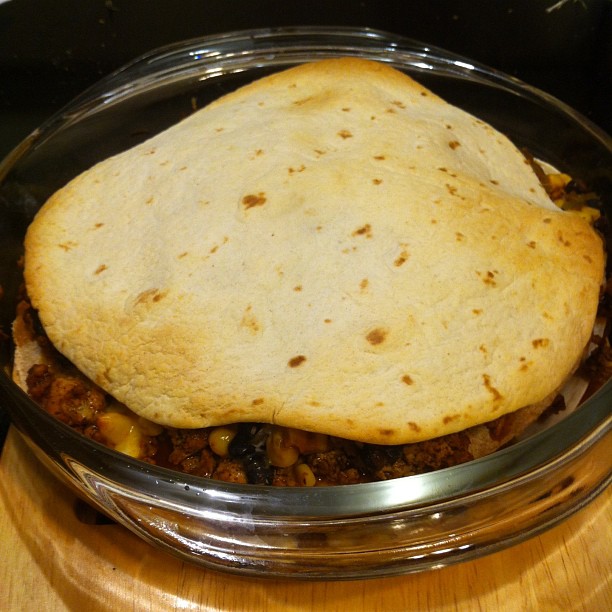 I got this from The Six O'Clock Scramble. It's so fast and easy, I think I'm going to have Alice make it from now on. And boy, is it tasty!!
Terrific Tortilla Tower
1 can (15 oz) pinto beans, drained
1 can (15 oz) unsweetened corn, drained
1 can (14 oz) Mexican-style diced tomatoes, drained, or 1 ½ C mild salsa
4-5 soft-taco-sized flour or whole-wheat tortillas
1-2 C seasoned cooked ground beef or other meat (optional)
1 ½ C shredded Cheddar cheese
Preheat oven to 425°. Thoroughly grease a 10" round cake pan.
In medium bowl, combine beans, corn and tomatoes.
Make the tortilla tower by alternating layers. Start with 1 tortilla (lay it flat at the bottom of the pan), topped with a big scoop of the bean mixture, then meat if you choose to use it, then a large handful of the cheese. Continue stacking until all ingredients are used, ending with the cheese. (I actually like to end with a tortilla -- the top one gets all crispy in the oven!)
Bake, covered with foil, 10 minutes. Uncover and bake 5-10 minutes more, until heated through. To serve, allow to cool for a few minutes, then cut into wedges.
8 servings
.